Frequently Asked Questions
What is webmail?
Webmail are web-based email accounts. These are usually free email accounts that are operated from a website. Examples include Hotmail, GMail and Yahoo Mail.
Webmail allows the users to access their emails as long as they have access to an Internet connection and a web browser. This also means that the user cannot read an old email or draft a new email offline.
POP3 Email Accounts
POP3 is the oldest Internet message access protocol. It was designed to support offline/local email processing. Email is delivered to a mail server and a remote email client periodically downloads the email from the server to the user's computer. Once the messages are delivered, they are deleted from the mailserver, although users can configure their email client to leave a copy of the email on the mail server.
POP3 email accounts require an email client to send and receive emails. Common email clients include Netscape Messenger, Outlook Express, Mozilla Thunderbird, OSX mail, and more.
When you check your email using an email client, it makes a connection to your mailserver and downloads your emails on to your computer. Note that POP3 handles mail access (or mail retrieval) only. Email sending is handled by SMTP.
Advantages of POP3:
All emails are downloaded to your computer. You can read your emails without being logged onto the Internet
Opening attachments is easy and quick as the file is already downloaded on to you computer
It frees up storage space on your mailserver, and there is not a maximum size on your mailbox (except as determined by the size of your hard drive)
Disadvantages of POP3:
Opening attachments is easy and quick, sometimes a bit too easy and quick if the attachment has a virus in it
All messages are downloaded on to the accessing email client/computer. This means that the user will need to go back to the same computer to access the emails
Mail Client
Overview
The Set Up Mail Client interface helps you configure a mail client to access an email address. A mail client lets you access your email account from an app on your computer or mobile device instead of by visiting a URL address (for example, the Apple® Mail client). You can access this interface for an account with the Connect Devices feature in cPanel's Email Accounts interface (cPanel » Home » Email » Email Accounts).
Setting Up Mail Client
---
Requirements and Support
You must have a mail client installed on your computer or mobile device to use this feature.
Exchange ActiveSync
To use Exchange ActiveSync to set up calendars, contacts, and email on an Android device all at once, read our How to Sync Calendars, Contacts, and Email on Android™ Devices documentation.
Mail Client Automatic Configuration Scripts
cPanel offers automatic configuration scripts for common mail clients, including:
Windows Live Mail®
iOS® for iPhone®, iPad®, and iPod®
macOS® Mail.app®.
If your mail client appears in the automatic configuration scripts list, configure it by performing the following steps:
Locate your mail client in the Application section of the Mail Client Automatic Configuration Scripts section.

Note:

If you do not see your mail client, you must manually configure it instead.

Select your mail client application's script from the Protocols list next to your mail client. For example, to set up a Windows Live Mail® client with IMAP over SSL/TLS, click IMAP over SSL/TLS in the Windows Live Mail® row. A new window will appear with instructions.

Important:

We strongly recommend that you use the Secure SSL/TLS setting. This setting provides increased security.

Review the system's instructions, then click Proceed to continue. The system will then attempt to download the script.

Important:

Clicking Proceed will prompt an automatic download of the appropriate configuration script. If you have disabled automatic downloads in your browser, you must enable them to proceed.

Run the automatic configuration script. You may do so in two ways:

If your browser prompts you to open, run, or save the script, select Run or Open to continue.
If your browser does not prompt you to open, run, or save the script, find the script in your computer's Downloads folder and run it.

The system may ask if you are sure you want to install the script. Select Continue or Yes to continue the installation.
The system may prompt you for the email account's password. Enter the password and click Install.

Note:

Enter the password for the email account, not your computer.

When you complete the process, your mail client will open and log in to your email account.
Mail Client Manual Settings
If your mail client does not appear in the list of clients with automatic configuration scripts, you must manually configure it. To manually set up your mail client, use the following settings:
Secure SSL/TLS Settings (Recommended)
 Important:
We strongly recommend that you use the Secure SSL/TLS setting. This setting provides increased security.
Non-SSL Settings (NOT Recommended)
For more detailed information on setting up your specific mail client, read your mail client's documentation.
Email Instructions
You can easily send the same configuration instructions that are in the Mail Client Manual Settings section of the interface to a different email address. Enter the desired email address in the text box, then click Send.
Outgoing Email Server - SMTP
SMTP stands for Simple Mail Transfer Protocol. It handles the sending of emails.
The ability to support email services includes two critical functions: SMTP and POP3. Together, they allow the user to send outgoing mail and retrieve incoming mail, respectively.
The SMTP server performs two basic functions:
It verifies that anyone attempting to send outgoing email through the SMTP server is allowed to do so
It sends the outgoing mail and if undeliverable, sends the message back to the sender
If you are using a email client, you will need to configure the SMTP server setting so that you can send outgoing emails.
Some hosting companies do not offer SMTP services as they can be difficult to maintain. If your hosting company does not offer SMTP service, another option is to use that of your Internet service provider.
What is Web Hosting?
Web hosting is a service that allows organizations and individuals to post a website or web page onto the Internet. A web host, or web hosting service provider, is a business that provides the technologies and services needed for the website or webpage to be viewed in the Internet. Websites are hosted, or stored, on special computers called servers. When Internet users want to view your website, all they need to do is type your website address or domain into their browser. Their computer will then connect to your server and your webpages will be delivered to them through the browser.
Most hosting companies require that you own your domain in order to host with them. If you do not have a domain, the hosting companies will help you purchase one.
How To Access Webmail – What Is Webmail?
Using generic emails like Yahoo and Gmail for businesses do little in inspiring confidence in customers. 
Most companies and professionals often use domain-based email accounts like info@domain.com to maintain professional images and conduct official businesses.
This article guides you on quickly creating professional email accounts from your cpanel account and how to access the emails using webmail software. 
But first, let's quickly understand what webmail is and why it's beneficial to use one.
Let's get started.
What's WebMail?
Webmail allows users to access email services or accounts through web browsers. It's a quick alternative to email clients—a third-party software application for accessing and managing email accounts.
Some of the examples of popular webmail include www.gmail.com, www.yahoomail.com, www.aol.com, and others. They allow Gmail, Yahoo Mail, and AOL Mail users to manage their accounts from the web without downloading any app.
Webmail software like RainLoop, RoundCube, Thunderbird, Horde, SquirrelMail, and others allow users to access and manage their domain email accounts from an easy-to-use web interface.
Delateur provides free webmail services to customers using webmail.
The Webmail Software Advantages
Using webmail software comes with some tremendous benefits. Let's take a look at some:
It allows domain-based email users to read, send and delete email messages with ease.

Webmail software eliminates the need to download and install third-party email clients.

Webmail is web-based, making it possible for users to access email accounts from anywhere remotely.

Using webmail is intuitive, and they're not often tricky to set up. 
Creating Professional Email Account
Using webmail for domain-based email accounts requires you first set up the accounts from your hosting account. Follow these steps to get it done.
Visit www.domain.com/spanel/login, of course, replacing domain.com with your domain name to log in to your cpanel account —an all-in-one control panel.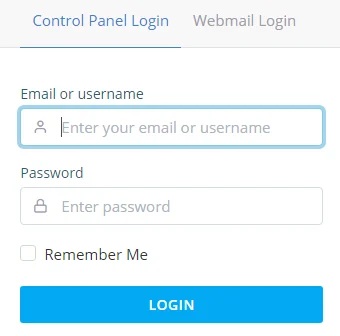 On the dashboard, locate the Email section and click Email Account to begin creating your email account.

Select your domain and enter your email username. 
Type your password, repeat the password to confirm it, or use the 'Generate' button to create a strong password automatically.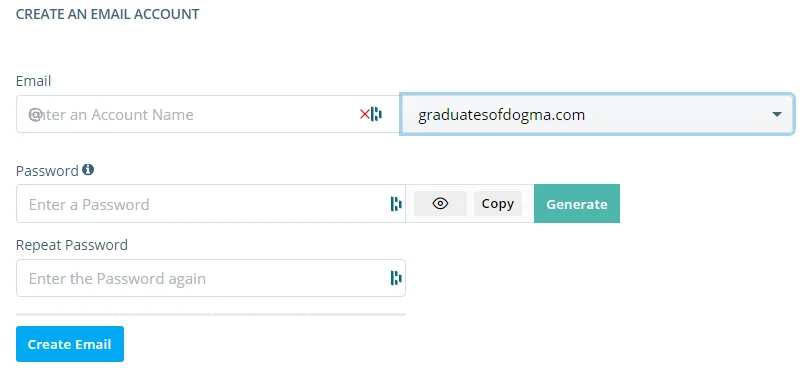 Click the blue button to complete the process.
That's it.
If successful, you'll receive a message saying, "The mailbox [your email address] has been created successfully."

How to Access Your Email Account Via Webmail
To access your domain email account via a webmail interface, open your browser and type the address www.domain.com/webmail, replacing domain.com with your domain name.
Enter your email address and password to sign in to your email account.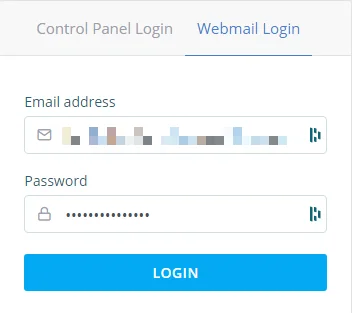 A successful login takes you to your Spanel email dashboard; click Login To Webmail to access the webmail interface.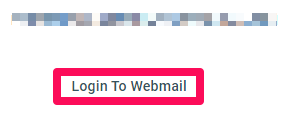 You could also change your password, set up email forwarding, or autoresponder from the email dashboard.

How to Configure Webmail on Android
opular Webmail services such as Roundcube, SquirrelMail, and Horde allow you to access and use the custom @yourdomain.com email address connected to your website.
To avoid missing priority emails, you can set up email forwarders to send a copy of each incoming mail to a pre-set email address, or you can link your webmail client to your Gmail account.
What is Webmail?
Webmail is short for web-based email, any email service that you can access via a web browser.
There are different types of webmail clients you can choose from. Some of the popular examples of webmail providers include AOL Mail, Gmail, GMX Mail, Icewarp Mail Server, Mailfence, Outlook and Hotmail, and Yahoo Mail.
Internet Service Providers and web hosting companies also provide webmail services. For this article, we will be focusing on how to set up webmail on Android via Gmail.
What Protocol to Use, POP3 or IMAP?
To configure your Android phone to access webmail via Gmail, you will need to choose either POP3 or IMAP. They each allow you to access your emails on one or multiple devices or locations.
POP3
POP3 stands for Post Office Protocol version 3, an internet standard protocol used by email clients to receive messages from a remote mail server to a local mail client. POP3 downloads your emails to your local computer and allows you to access emails offline.
IMAP
IMAP stands for Internet Message Access Protocol, an internet standard protocol that email clients use to retrieve email messages from a mail server over a TCP/IP connection.
Outgoing mail is sent using SMTP. SMTP stands for Simple Mail Transfer Protocol, it is the standard protocol used to send mails across the internet. IMAP, POP3, and SMTP all require authentication.
Roundcube, Webmail Lite, and SquirrelMail all use the IMAP protocol.
Here is how to configure your Android phone to be able to access webmail.
Open Gmail on your Android phone.
Tap on your profile picture, then select

 

Add another account. You may have to scroll down if you already have

 

multiple Gmail accounts.
Under

 

Set up email, scroll down and tap

 

Other.
Under

 

Add your email address, enter your email address in the space provided.
Tap

 

NEXT.
Most mail clients will automatically configure your account.
If automatic configuration fails, tap MANUAL SETUP and input the following port numbers manually when prompted:
Incoming Server: IMAP Port: 993, POP3 Port: 995
Outgoing Server: SMTP Port: 465
Configure Your Account
You will be asked, what type of account is this? Select either Personal (POP3) or Personal (IMAP). If you're not sure which to select, log in to your cPanel account and check which protocol your preferred webmail client works with. Roundcube, SquirrelMail, and Webmail Lite all use IMAP. Or check the support pages of your email provider.
For this setup, we will select IMAP. You shouldn't spend all day trying to decide which email protocol to choose for your incoming server settings. You can always switch between POP3 and IMAP as your needs change in the future.
On the next page, review your

 

Incoming server settings

 

and tap

 

NEXT.
Under

 

Outgoing server settings, tap the toggle button to turn off

 

Require sign-in

 

or leave as is if you want your mail client to require sign-in each time you access your mail.
Go on and tap

 

NEXT.
Adjust the Account Settings
Under

 

Account options, tap the down arrow to select your

 

Sync frequency. It is set to refresh

 

Every 15 minutes

 

by default. You can adjust this later if you want.
Settings like Notify me when emails arrive, Sync email for this account, and Automatically download attachments when connected to Wi-Fi, are your default account settings. You can use the checkboxes to change any of these settings.
Tap

 

NEXT.
Your account is now created. You will see a congratulatory message at the top of the page informing you that your emails are on the way. In the space provided, enter your name as you want it displayed in outgoing messages, then tap NEXT to finish the setup.
Most hosting providers recommend using POP3 over SSL/TLS or IMAP over SSL/TLS while setting up your mail client on your Android device. This is because they provide increased security for your interactions with the remote mail server.
Now That You're All Set
By setting up your mail client on your Android phone via Gmail, you will no longer have to go through the extra hurdle of logging into your cPanel dashboard just to access your web-based emails.
Also, you will be able to keep tabs on all your webmail so that you don't miss important emails. Gmail will sync your emails every 15 minutes so you can catch new messages as they arrive. You can adjust this sync frequency later. There are options to sync your accounts every 15 minutes, every 30 minutes, every hour, or manually.
You can repeat this process for any number of email accounts you want to set up on your Android phone. Simply tap your Gmail profile picture, go to Add another account, and take it from there.